Explore the ideal holiday destination for an active holiday
in a beautiful natural environment
Active holiday in a beautiful natural environment
---
All-season holiday destinations for an active holiday
Several winter sports in the winter
Mountain sports in the summer
Would you like to have an active holiday with all kinds of sports activities in a natural environment? Would you like to go on a winter sports holiday or do you enjoy taking part in other mountain sports in the summer? We have made a list for you of all the resorts that are situated in a beautiful natural environment. It will help you find your ideal holiday destination for an active holiday!
SEARCH AND BOOK YOUR stay here
Dormio Resort Obertraun - Austria
Obertraun in the Austrian Alps is a true paradise for hikers and mountain bikers. There is an almost unlimited choice of activities! The mountainous area where Dormio Resort Obertraun is situated is perfect for both a holiday in the summer - when you can enjoy a wonderful swim in Hallstättersee - and an active winter sports holiday, with plenty of options for skiing, snowshoeing or tobogganing. The area where the resort is situated was added to the UNESCO world heritage list in 1997 because of its beautiful natural environment.
Tip: Five Finger viewing platform in Obertraun
We highly recommend a visit to the Five Finger viewing platform during your active holiday at Dormio Resort Obertraun. Here you can experience a high-level adrenalin rush! This is probably the most spectacular viewing platform in the Alps; it looks like a hand with five fingers, suspended over a 400-metre drop. Each platform offers a different experience, including a glass floor allowing you to admire the valley beneath you, a baroque picture frame for a fantastic photograph and a telescope enabling you to see the beautiful surroundings even better.
Book your stay in Obertraun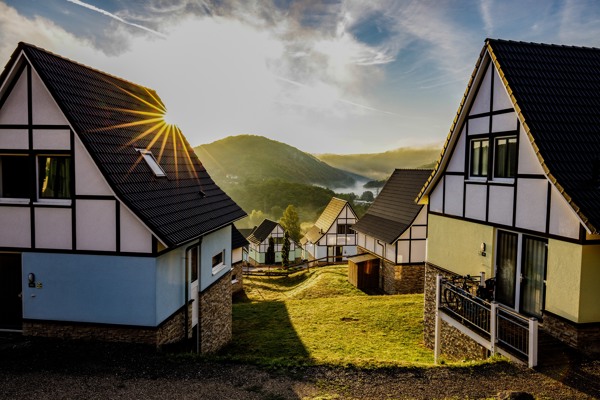 Dormio Resort Eifeler Tor - Germany
Are you a nature and culture lover? Dormio Resort Eifeler Tor is the place for you! This luxury resort is in the middle of the Eifel, right beside Eifel National Park, at a stone's throw from the beautiful Rursee and close to historic cities like Cologne, Aachen and Trier. Situated on a hill, the resort offers breathtaking views of the Ruhr River. The perfect holiday destination for an active holiday in the Eifel!
Tip: Many activities in the beautiful natural environment of the Eifel
The beautiful natural environment of the Eifel has lots to offer for young and old - a perfect area for an active holiday! You can go mountain biking on one of the many mountain biking routes in Eifel National Park, around the Rursee or in the challenging VulkanBike Trailpark. The Eifel also offers various options for a beautiful hike or bike ride. Would you rather explore the surroundings from the water? Get a kayak or boat and explore the spectacular Rursee! At Dormio Resort Eifeler Tor you can also go for a swim in one of the swimming-pools or hire an e-bike and explore the surroundings.
Book your stay in the Eifel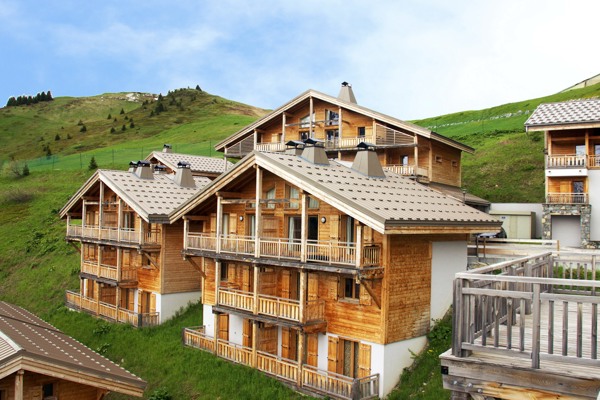 Dormio Resort Les Portes Du Grand Massif - France
Dormio Resort Les Portes Du Grand Massif is situated in the attractive village of Flaine, at an altitude of 1,850 metres. From the resort you have a spectacular view of the French Alps. In the winter, the snow-covered mountains invite you to take part in various winter sports, while in the summer this is a great place for many other activities, including rafting, kayaking, canoeing and paragliding.
Tip: Winter sports in Flaine
Flaine is the ideal destination for a winter sports holiday with the whole family or your group of friends. The ski area Le Grand Massif has a total of 265 kilometres of pistes for both novice and experienced winter sports enthusiasts and offers panoramic views of the French side of Mont Blanc. Because of its location, good snow conditions can almost be guaranteed, making this the perfect place for your ski holiday! There are also many other winter activities you can do in Flaine, like a trip on a snow scooter, snowshoeing, sledding with huskies or a challenging ride on a mountain kart or moon bike.
Book your stay in Flaine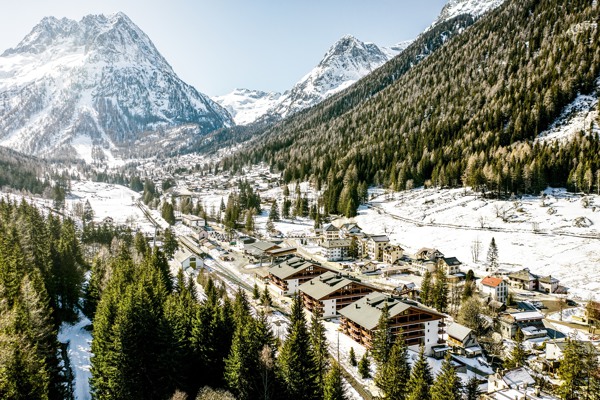 Dormio Resort Les Portes Du Mont Blanc - France
Dormio Resort Les Portes Du Mont Blanc in Vallorcine is an excellent all-season destination for an active holiday. In both summer and winter you can enjoy the beautiful natural environment while being active here. Explore the beautiful places in the surrounding area, like the famous Mont Blanc! Climbing the 4,810-metre-high Mont Blanc is the ultimate challenge for many mountaineers. The gondola in front of our resort provides direct access to the Domaine de Balme-Poya ski area. Here you will find the perfect place to teach your children how to ski as well as spectacular off-piste descents. All the other pistes in the Chamonix-Mont-Blanc ski area are also easily accessible by ski lift, bus or train.
Tip: Summer activities in Vallorcine
Vallorcine is not only a great destination for your winter sports holiday; in the summer there are also many things you can do here if you are looking for an active holiday. The beautiful nature reserves are perfect for activities like parasailing, mountain biking, climbing, bouldering, fishing and hiking. If you like hiking in a beautiful natural environment, a walk to the top of Aiguilles Rouges is highly recommended. This unique viewpoint offers breathtaking views of Mont Blanc and the Swiss Alps. You will also be blown away by the beauty of the spectacular rivers, waterfalls and mountains. Golf enthusiasts will enjoy playing a round of golf at Golf Club de Chamonix, a large, 18-hole golf course with small differences in height and views of Mont Blanc.
Book your stay in Vallorcine
Book your active holiday surrounded by nature now
Are you in need of a wonderful, active holiday in a beautiful natural environment? Book your active holiday now!