Enjoy sparkling wines and great accommodation
in the most unique wine hotel in the Netherlands
Unique wine hotel in Valkenburg
Dormio Wijnhotel Valkenburg is a unique hotel, situated on the edge of the vibrant town centre of Valkenburg. We look forward to welcoming you at our latest hotel!
Unique hotel rooms with wine theme
Burgundian-style elegance near Valkenburg town centre
Wine restaurant, bar, shop, museum and more
170 quality wines from Limburg, Europe and America
View Dormio Wijnhotel Valkenburg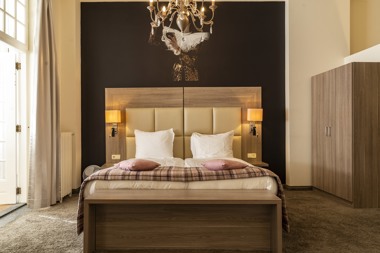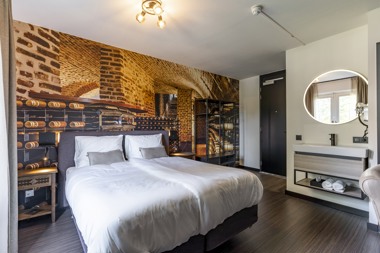 Perfect accommodation in South Limburg for true wine lovers
Dormio Wijnhotel Valkenburg is all about wine. The perfect destination if you like wine! The trendy wine hotel is situated near Valkenburg town centre, opposite the oldest train station still in use in the Netherlands. Spend the night in this unique hotel and enjoy an unforgettable stay in Valkenburg!
Book your stay here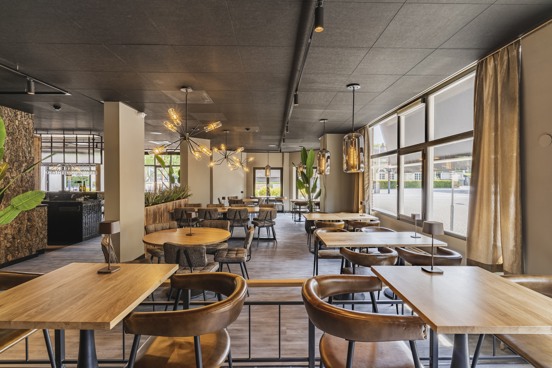 Find the perfect wine and food pairings in Restaurant Bruis
In Restaurant Bruis, which forms part of our wine hotel, you can choose between 170 different wines from worldwide wine producers. Will you choose a sparkling quality wine from Limburg or a robust wine from France, Germany, Austria, Spain, Italy, Chile or Argentina? Our wine connoisseurs in the restaurant are always happy to help you select the right wine and food pairing. We offer Italian and Limburg cuisine with a worldly twist. The chefs will be delighted to surprise you with delicious dishes and small bites like mouth-watering oysters or an elaborate charcuterie board.
Acquaint yourself with the world of wines at Dormio Wijnhotel Valkenburg
Apart from a trendy wine restaurant, Dormio Wijnhotel Valkenburg also has a cosy wine bar, a wine showroom, a wine museum, a wine library and a wine-tasting cellar, where we organise wine events and tastings regularly. During your stay in Valkenburg you can therefore not only enjoy great accommodation, but also familiarise yourself with the unique world of wines!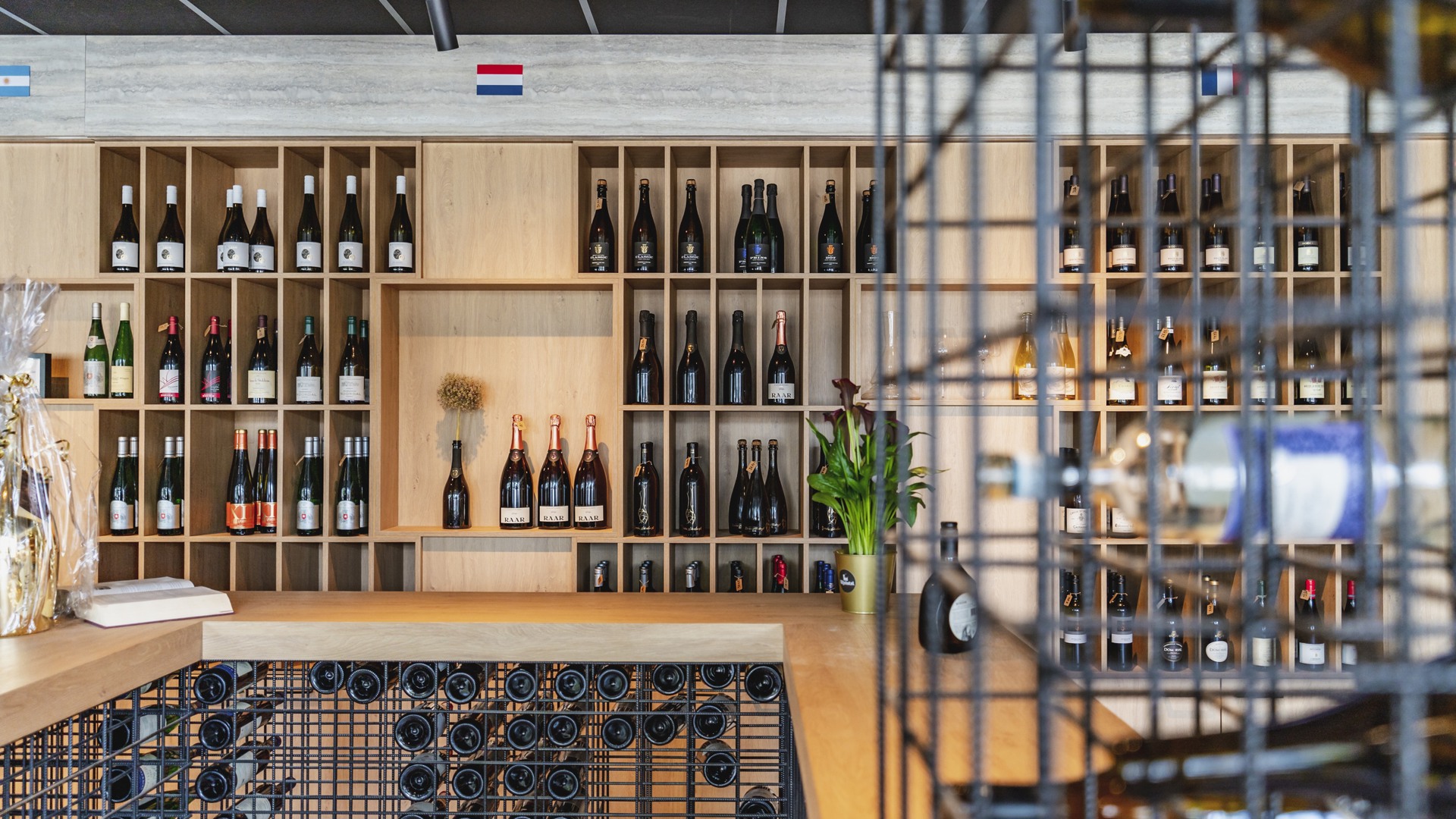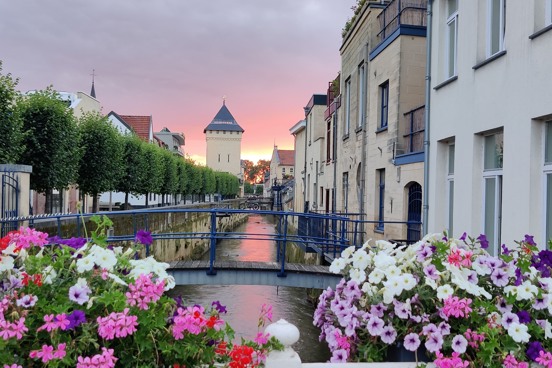 Experience vibrant Valkenburg during your stay
We highly recommend exploring the beautiful surroundings during your stay in Valkenburg. Valkenburg is well-known for its historic town centre, the hilly landscape and the many activities for young and old. For example, descend into the Mergelgrotten and explore the underground corridors of these caves. In Valkenburg you can visit the Roman catacombs, the unique coal mine or take the only cable car in the Netherlands to Valkenburg's castle ruins and enjoy the great views of the medieval town centre. In Valkenburg's vibrant town centre you can shop in the many small boutiques or the large store chains, and of course you can enjoy the Burgundian-style food and drink that is characteristic of Limburg.
Tip: Most exclusive suites
Spending a night at the wine hotel is a wonderful experience in itself. Do you want to make it even more memorable? Stay in one of our two unique suites: the wine library or the wine museum! The museum room has been furnished by the Dutch Wine Museum of Robbers & Van den Hoogen in Arnhem, which has also contributed 400 books about wine to the wine library.
View all rooms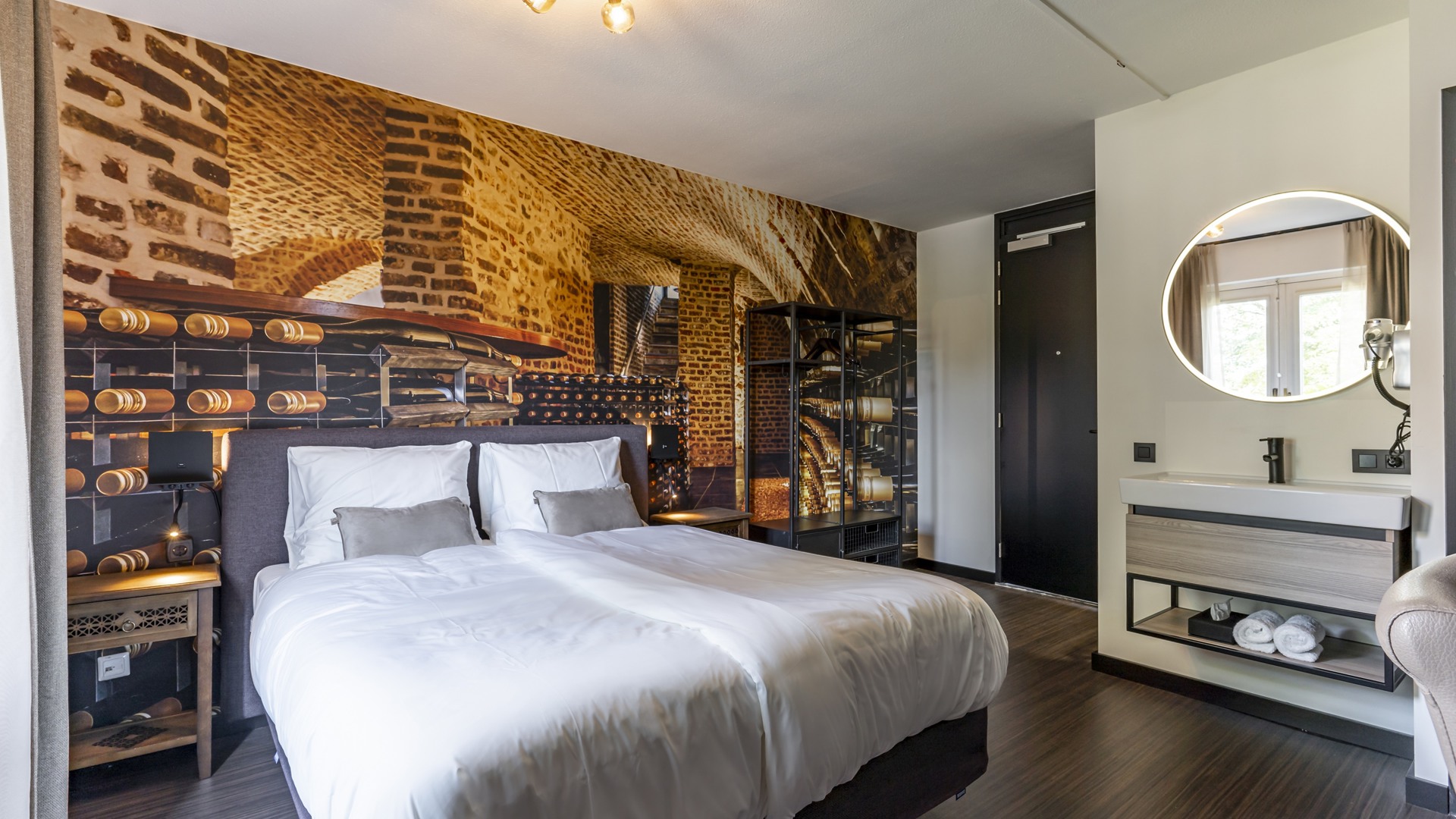 Spend the night in unique Dormio Wijnhotel Valkenburg
Are you a wine lover and are you looking for a comfortable hotel in South Limburg for a weekend away, a midweek stay or a longer holiday? Book a modern hotel room in our unique wine hotel in Valkenburg! Each of the 44 unique hotel rooms has been furnished in a wine-based theme by one of the cooperating wine producers. The rooms have accessories and wall decorations in keeping with the theme, like a photo of a producer's vineyard or a glass of wine being poured. Some balconies even have their own miniature vineyard. This is the perfect destination for an unforgettable stay in a trendy hotel with excellent wines!
Book your stay here