Explore the beautiful Limburg hills by bicycle
Fietsverhuur Dousberg in Maastricht
---
Beautiful cycling area
A selection of quality bicycles and e-bikes
Tips about the best routes
Guided tours
Would you like to explore the beautiful undulating Limburg landscape by bicycle? Or would you like to get to know the vibrant city centre of Maastricht, a great place for shopping and enjoying the local hospitality? Rent a bike from Fietsverhuur Dousberg, which is right beside Dormio Hotel De Prins van Oranje. Here you will find a selection of quality bicycles and e-bikes for all ages.
View all facilities
Explore the Limburg hills
Cycling is an active and environmentally friendly way to explore the beautiful surroundings of Maastricht. You can enjoy a bike ride through the South Limburg hills or pass through friendly villages and towns. Fietsverhuur Dousberg has put together a number of cycling routes based on specific landmarks. Choose, for example, a route towards Natuurpark De Hoge Kempen or cycle along the River Maas towards Eijsden. A beautiful natural landscape and splendid views are guaranteed!
Explore the surroundings
Find a bicycle that suits you at Fietsverhuur Dousberg
Fietsverhuur Dousberg in Maastricht has a wide selection of quality bicycles. You are sure to find a bicycle here that meets your requirements! At the bike rental shop, you can get city bikes with several gears, hybrid bikes for longer distances and e-bikes. The staff will be happy to help you find the bicycle that suits you best. There are also children's bikes in different sizes and even a special children's tandem.
Book your stay here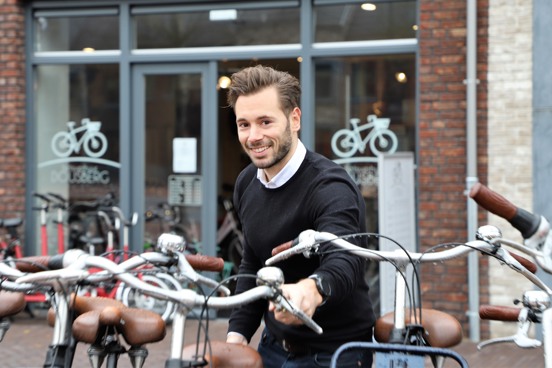 Experience Maastricht with the tips from Fietsverhuur Dousberg
At Fietsverhuur Dousberg you not only find especially designed cycling routes; the staff also have a detailed knowledge about the beautiful surroundings. The bike rental shop is run with great enthusiasm by true locals, who can tell you all about the area. Would you rather go with a guide who can give you more specific information about all the great things you come across? That's also possible!
Rent a bike for as short or as long as you want
Whether you want to rent a bike for a day or for several days, it is all possible! Tip: Book the bike you want in advance. That means you will be sure the bike is available and will be ready for you. You don't have to book, though, and you are also very welcome without a booking. You can book a bike near our hotel in Maastricht on the website of Fietsverhuur Dousberg.
Book your stay in Maastricht