Sample typical German cuisine
during your holiday in the Eifel
Restaurants at Dormio Resort Eifeler Tor
---
Restaurants on the vibrant promenade
German cuisine with locally brewed beer
Italian pastas, pizzas and more
Dutch and German snacks
Enjoy fresh German rolls for breakfast, an elaborate lunch on the terrace or a delicious meal in one of our restaurants during your stay at Dormio Resort Eifeler Tor. Don't forget to taste the locally brewed Heimbacher beer when you are here. Guten Appetit!
You may find that one of the restaurants is closed during the week outside the holiday periods.
View our accommodations
Dine out in style over the festive period
Take a break from cooking over the festive period, and make things easy for yourself. The Heimbacher Brauhaus restaurant is the perfect destination to enjoy a delicious 4-course meal on Christmas Eve, Christmas Day and New Year's Eve. Get in the holiday mood and enjoy our specially created holiday menu. Enjoy a festive feast with family and friends over the holidays.
View our festive menu
Start the day with a delicious breakfast
A good, hearty breakfast is an essential part of a relaxed holiday! At the supermarket on Dormio Resort Eifeler Tor you can get delicious hot rolls, fresh orange juice and different fillings for your rolls every day. Enjoy beautiful views of the Ruhr valley and the meandering Ruhr River while having your breakfast on the terrace of your chalet or apartment. An excellent way to start your day!
Enjoy German cuisine at Heimbacher Brauhaus
Do you like meat or fish? Or do you prefer vegetarian food? The menu of Heimbacher Brauhaus includes dishes like a Wiener schnitzel with pepper sauce, a mixed grill which includes a tender piece of steak, trout with herb potatoes and a delicious vegetarian vegetable strudel. Don't forget to keep some space for a mouth-watering desert! The Apfelstrudel with vanilla sauce is highly recommended. For the youngest guests there is a special kids' menu. Have we whet your appetite? Book your table quickly at the reception desk or at the restaurant!
Book your holiday
Sample the locally brewed Heimbacher beer
There is nothing better than a cold, locally brewed beer in the sun on the terrace of Heimbacher Brauhaus! Make sure you sample our beer, brewed especially for the resort, during your holiday at Dormio Resort Eifeler Tor. In addition to local cuisine, Heimbacher Brauhaus offers an extensive selection of drinks. Heimbacher beer is available in three different varieties: Dunkel (a dark beer), Zwickel (a cloudy lager) and Hell (a clear lager). Can't decide? Order three samples and decide which is your favourite!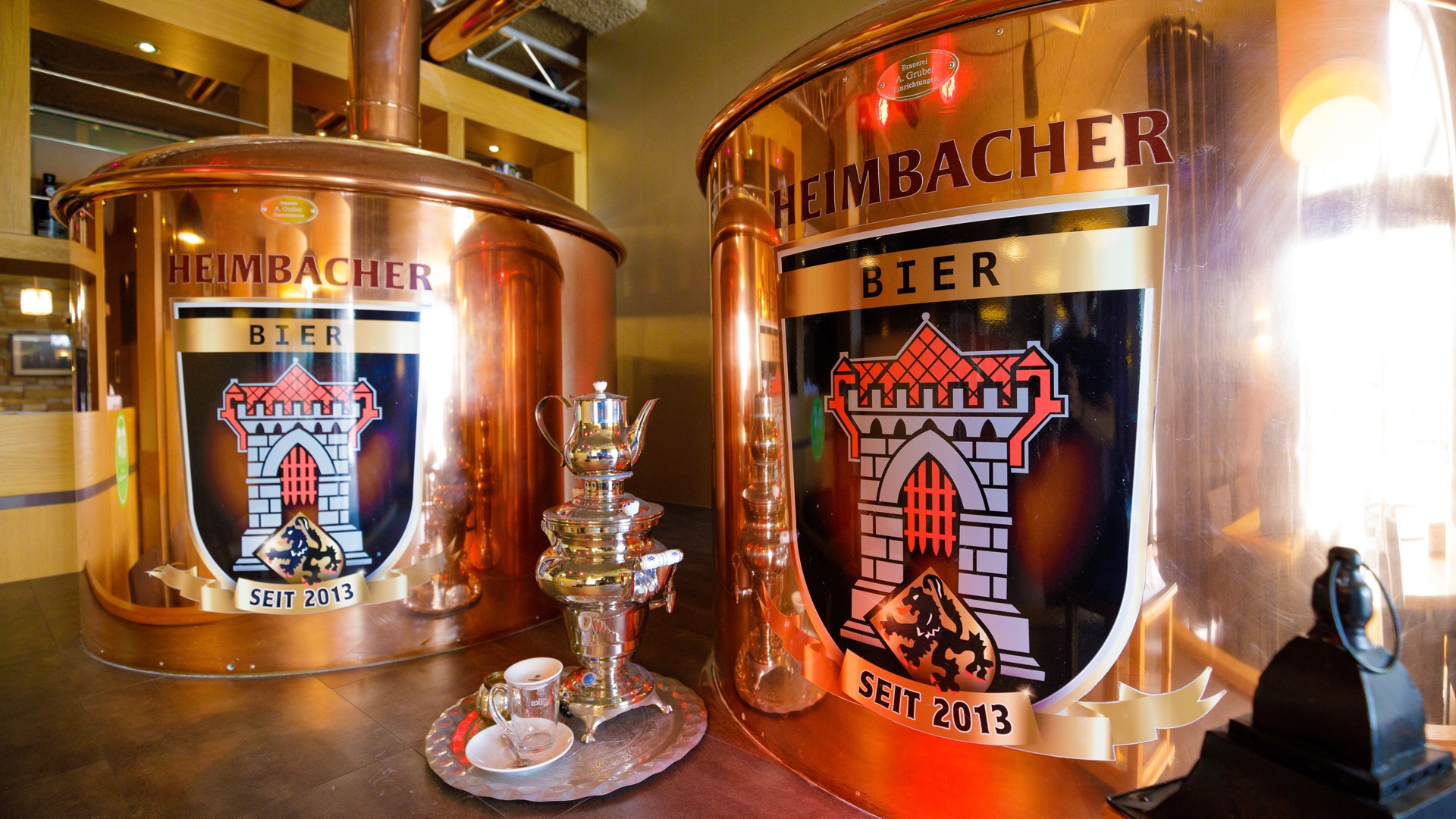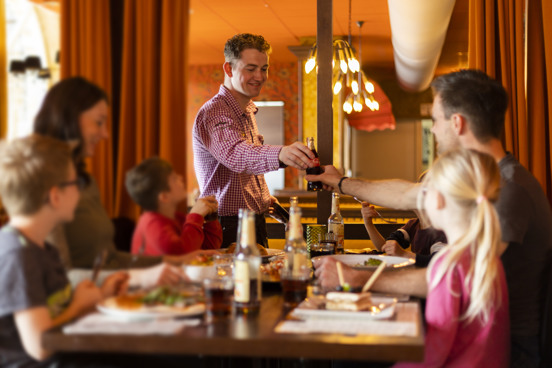 Sample delicious Italian cuisine at Casa Ruscello
Enjoy delicious Italian food and complementing wines in restaurant Casa Ruscello at Dormio Resort Eifeler Tor. The wine menu has a broad selection of white and red wines. Order delicious antipasti, fresh soup, pasta or pizza. If you love Mediterranean cuisine, you are in the right place here! Do you want to make sure we have a table for you? Because of the limited opening hours of this restaurant we recommend that you book a table at the reception desk or at one of the restaurants.
Cook sumptuous German or Italian specialities at Heimbacher Kochstudio
Our resort also features the Heimbacher Kochstudio, where you can learn how to cook delicious German, Italian or Mediterranean food under the guidance of a chef. You can have a great time preparing and eating delicious food together with your partner, family or friends. And you will get the recipes, so you will be able to enjoy German, Italian or Mediterranean cuisine at home as well.
More about the cooking studio
Get the best snacks at Imbiss Der Turm
At Imbiss Der Turm on Dormio Resort Eifeler Tor you can get the best Dutch and German snacks, like frikadellen, half chicken portions and currywurst. Of course you can also get fresh chips and delicious ice cream. Enjoy the beautiful view of the Ruhr valley from the snack bar or take your food back to your accommodation, where you can enjoy your takeaway with the whole family.
Book your stay in the Eifel