Our extensive facilities ensure you have
a fantastic holiday on the Costa Blanca
Facilities at Dormio Resort Costa Blanca
---
Relax using the spa facilities
Outdoor swimming-pools and a spa pool
Several bars and restaurants
Fun & Entertainment for the youngest guests
Dormio Resort Costa Blanca has extensive facilities, which will make your holiday complete. For example, go for a meal in Nuzza Beach & Terrace Restaurant or Paqui's Tapas Bar & Deli, take a swim in one of our swimming-pools or enjoy one of the other high-quality facilities. In short, all the ingredients you need for a carefree holiday on the Costa Blanca you will find at Dormio Resort Costa Blanca!
Find out more about our resort
Nuzza Beach & Terrace Restaurant: for lunch and dinner
Relish the fantastic views of the Cala Lanuza bay while enjoying the most delicious tapas and drinks in Nuzza Beach & Terrace Restaurant at Dormio Resort Costa Blanca. Our chef Pablo will be delighted to introduce you to some sumptuous dishes, including a selection of local specialities, during your lunch or dinner. And of course, the food should be accompanied by a good glass of wine. At Nuzza Beach & Terrace Restaurant you can choose from an elaborate wine menu, with both international top wines and local ones from Alicante, Yecla and Valencia. Cheers!
Fine dining at our resort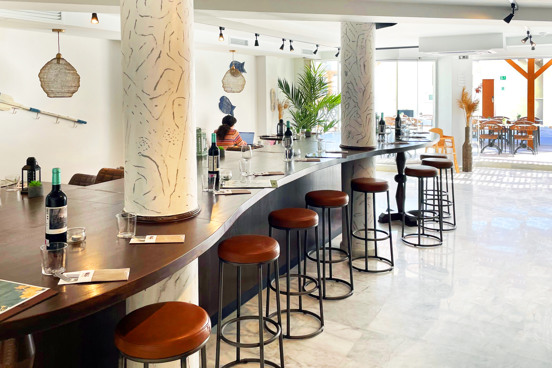 Paqui's Tapas Bar & Deli: for tapas, minimarket and delicatessen
Paqui's Tapas Bar & Deli is a friendly tapas bar with minimarket at Dormio Resort Costa Blanca. You can enjoy a delicious breakfast on the terrace or collect fresh rolls at Paqui's. You can also get your everyday essentials here.
Are you a true tapas lover? Paqui's Tapas Bar & Deli is the perfect place for a delicious lunch or dinner! Order delicious house-made tapas and enjoy them under the Spanish sun, on Paqui's terrace or on your own balcony or terrace. You can order a welcome, cold draught beer at the bar. You can also sample typical local delicacies here, like a seafood salad, or you can have an original Mexican burrito.
Reception: for tips from real locals
At the reception of Dormio Resort Costa Blanca you can check-in and check-out, extend your stay or request a late check-out. The staff at reception will also be happy to give you tips about the best activities and most beautiful places in the surroundings.
Book your stay here
Spa Wellness & Gym: for a relaxed stay!
The wellness and fitness facilities at Dormio Resort Costa Blanca guarantee there is no lack of relaxation. You can use the spa pool, the Vichy Spa room and the sauna, and in our massage rooms you can fully unwind while enjoying a wonderful massage or beauty treatment. Children aged up to 16 may only visit the wellness centre when accompanied by an adult. Do you want to continue your fitness training during your stay? Visit our professional gym or do your workout in our outdoor gym and enjoy the stunning views while you are working out!
More about Fitness & Wellness
Outdoor swimming-pools: for a refreshing swim
Dormio Resort Costa Blanca has two outdoor swimming-pools with deckchairs. After a refreshing swim in the swimming-pool you can unwind in a deckchair and enjoy the wonderful Spanish sunshine. For our smallest guests, we have a special kids pool for even more water fun! In addition to visiting the outdoor swimming-pools, you can also go to the adjacent beach, Cala Lanuza. From our resort you can walk straight onto the beautiful sandy beach!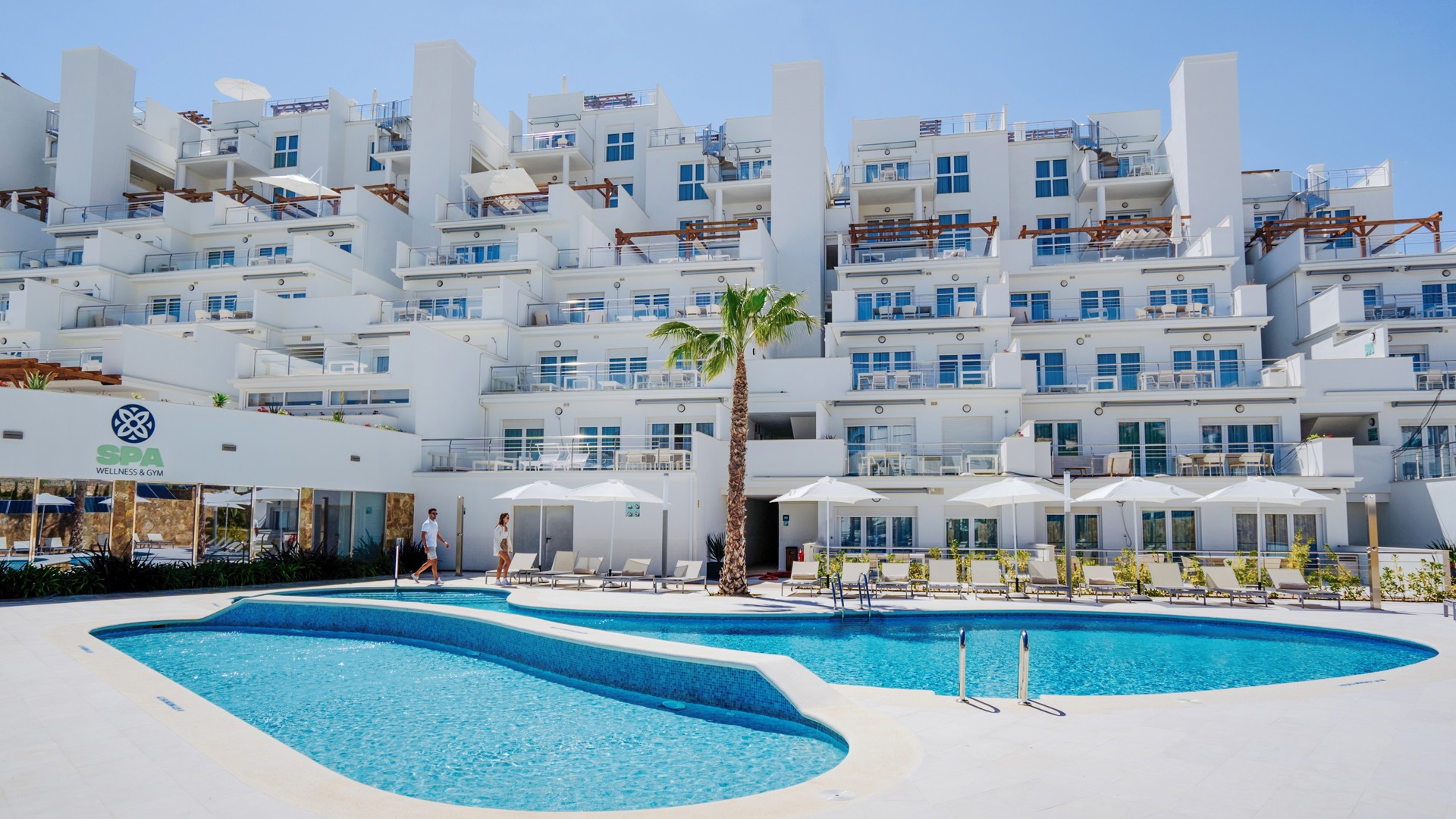 Mio Kids Club: for the youngest guests
Have you met our lovely mascot Mio? Our always cheerful pet Mio organises all kinds of activities for our youngest guests in the Mio Kids Club during the holidays, in the weekends and on public holidays! In June and September, we also organise special activities for toddlers during the week. Mio likes dancing, having fun and eating and is always looking for new friends. Are your kids going to join Mio? There is a special programme for toddlers in June and September. Your children can also have a great time in the kids playground or in the kids pool!
More about the Mio Kids Club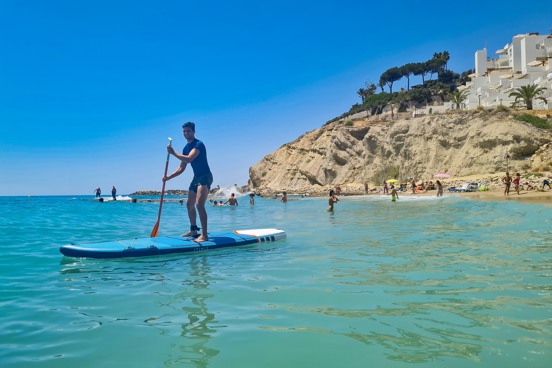 Water activities
Older children and adults will also have a great time at our resort during the summer holidays. Great water-based activities, like aquagym or SUP-boarding workshops, are organised regularly. You can find the up-to-date programme at reception or in Dormio Compass.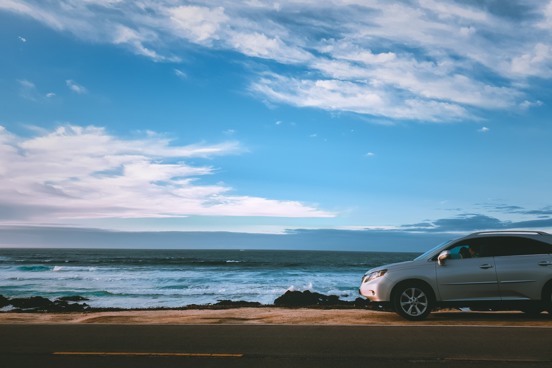 Hire a car from the airport
Would you like to explore the beautiful surroundings independently? In that case, a hire car is a good choice! From our partners Centauro and SIXT you can hire a car at a competitive rate in the category you want. This guarantees that your car perfectly suits your plans and that there is enough space to load the suitcases of the whole family. Booking GPS or hiring a child seat are also among the options. So, your car will be exactly as you want it. You can collect your car immediately at Alicante Airport and return it there at the end of your stay.
Underground car park: cool parking for your standard or electric car
At Dormio Resort Costa Blanca there is enough space to park your own or hire car securely in a cool place in our underground car park! This costs € 10 per car per night.
Are you travelling to the Costa Blanca in an electric or hybrid car? Simply charge your electric car at our charging points in our underground car park, using the "Recarga Pública Iberdrola" app. If you are driving a Porsche, you can charge your car free of charge.
Stay on the Costa Blanca
View the facilities at Dormio Resort Costa Blanca