Enjoy the best activities and have fun
in the Mio Kids Club
Welcome to the Mio Kids Club
---
Entertainment for ages 2 to 9
Playing games, dancing and going on a treasure hunt with Mio
In the weekends, during school holidays and on public holidays
Perfect for a family holiday
Of course, nothing is more important than making sure your children have a great holiday. If your children are having a good holiday with a great entertainment programme, you - as the parent - can also relax. There is lots going on for children aged 2 to 9 at Dormio Resort Maastricht. They can meet new friends in the Mio Kids Club, play together and dance to Mio's music.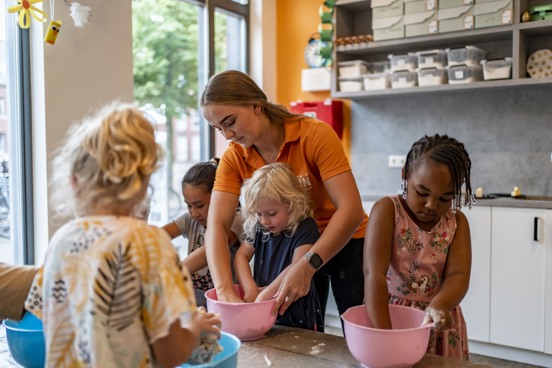 Especially for our youngest guests: the Mio Kids Club
Together with the Fun & Entertainment team, Mio makes sure all kinds of great activities are organised at the Mio Kids Club. Does your child enjoy dancing, doing crafts or outdoor sports activities? Children will never get bored in the Mio Kids Club in the weekends, during school holidays or public holidays! You can find the complete entertainment programme of the Mio Kids Club at reception and in Dormio Compass. Charges may apply to some activities, such as laser gaming and VR games.
Meet Mio, our friendly pet mascot
Mio is our always cheerful, lovely pet - a permanent resident at Dormio Resort Maastricht. Mio likes to enjoy the good life in Maastricht. As you can see from his big belly, he likes good food. He particularly likes the beefburgers of Dousberg Snack. He also likes treasure hunts, chilling out, meeting new friends and listening to exciting stories. You will meet him regularly during the weekends, school holidays and on public holidays near the Kids Homes in the Kids Quarter, where he wants to play with new friends and give high-fives. Are your also coming to play with Mio?
Book a Kids Home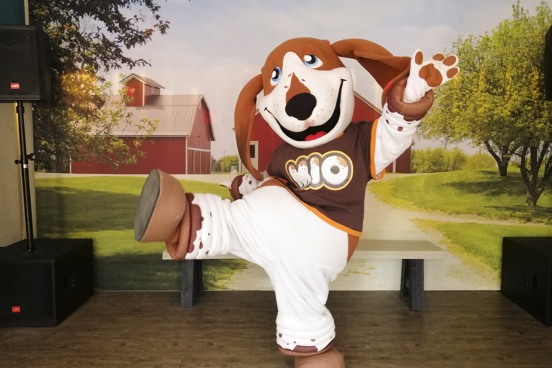 Follow Mio's exciting adventures on social media
Mio likes to take you on an adventure! Not just when you are at our resort, but also via his social media channels. Don't miss any of Mio's adventures and follow him on Facebook, Instagram or TikTok, so you can get to know him and become friends. Will we see you soon on social media or at our resort?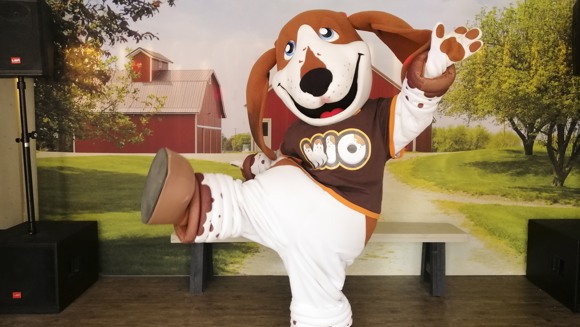 Will you dance along with Mio via YouTube?
Are you keen to get to know Mio better? And do you feel you can't wait to meet him in the Mio Kids Club? Meet Mio now on YouTube and learn the official Mio dance to Mio's cheerful tune! Mio also wants to show you how to make hot dogs.
Find Mio on Youtube
Listen to Mio's cheerful songs on Spotify
"Mio, oo-oh, oo-oh, oo-oh" 🎵 Will you sing along with Mio's cheerful songs? On Spotify you can find a number of Mio's songs in different languages. You will be able to belt out the songs with the rest of us when you are at our resort! What will be your favourite song?
Find Mio on Spotify
An impression of the Mio Kids Club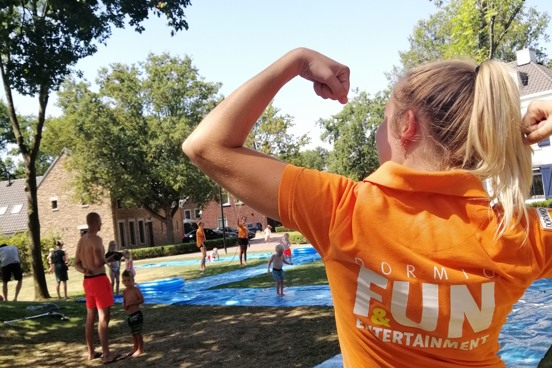 Enjoy entertainment for all ages
Do you have older kids travelling with you? Or do you want to enjoy a night out as an adult? There is also lots to do for you at our resort! Especially for children aged 9 to 14 we organise all kinds of cool activities during the school holidays and on public holidays. Dormio Fun & Active is known as the meeting place for young teenagers.
As an adult, you can also take part in a number of great activities at our resort. During the summer holiday, there is often live music on Het Wilhelmus. Or would you like to take part in an exciting quiz night or join a theme night? People of all ages will have an unforgettable holiday at Dormio Resort Maastricht!