Enjoy the extensive facilities at
Dormio Resort Maastricht
Facilities at Dormio Resort Maastricht
---
Extensive facilities
Food and drink
Fun & Entertainment for everyone
Luxury spa and wellness centre
Dormio Resort Maastricht has extensive facilities, which will make your stay even better! They will enable you to enjoy a carefree stay in Maastricht.
Hire a bicycle from the bike hire shop at our resort, sample delicious food in our eating places, relax in the wellness centre or enjoy the other facilities.
Explore the resort
't Proeflokaal Eten: enjoying the good life
At 't Proeflokaal Eten you can enjoy excellent food. Start the day with an elaborate breakfast buffet or enjoy a tasty lunch in the afternoon.
Do like fish or meat, or do you prefer vegetarian food? Join us for dinner, and we will introduce you to our delicious food. Don't forget to keep some space for one of our mouthwatering deserts! Are you coming for dinner with your children? We have a special dinner menu for our small guests. When you order at least 2 dishes, the children may spin Mio's Gift Wheel, which is full of surprises!
More about food and drinks
Water fun in the swimming-pool
Don't forget to bring your swimwear when you are staying at Dormio Resort Maastricht! No matter what the weather is doing, you can always go for a swim in the indoor swimming-pool at our resort. The swimming-pool has a kids' pool, a slide, changing rooms, showers and lockers. The swimming-pool is not supervised.
More about the swimming pool
View the facilities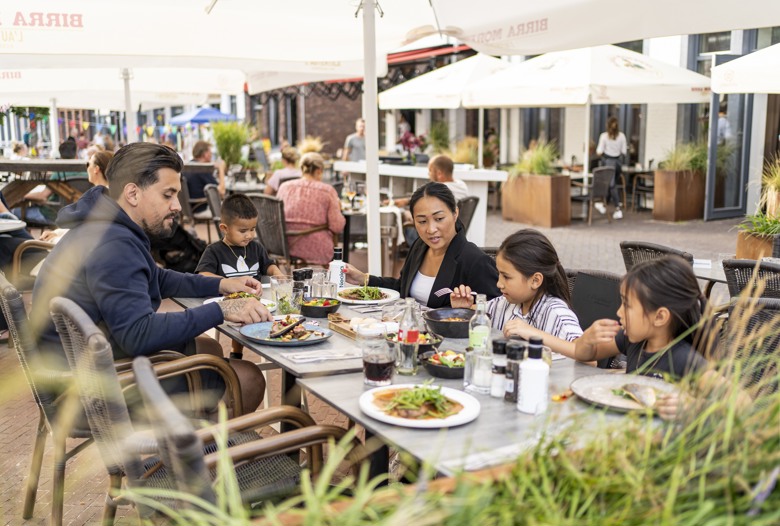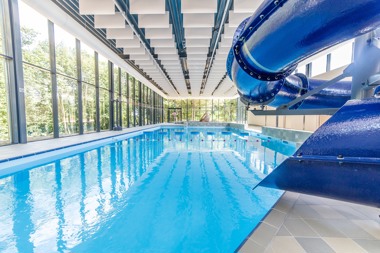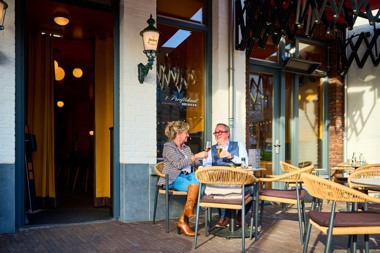 Relax at SpaSereen Maastricht during your holiday in Maastricht
Fully unwind at our resort and relax in brand new SpaSereen Maastricht! From your holiday home it is a short walk to this luxury spa and wellness centre, where you can enjoy several swimming-pools, wonderful saunas, plunge pools, a lavish Turkish steam bath, deluxe beauty and massage treatments and a fine restaurant (charges apply). Would you like to indulge in a wellness treatment? You can also book a treatment only. Go for pure indulgence during your stay at Dormio Resort Maastricht!
Every second Sunday of the month, the uneven weeks on Tuesdays and the even weeks on Thursdays, it is swimwear day at SpaSereen Maastricht. You must wear swimwear on these days.
More about the wellness centre
Fun & Entertainment for all ages
Our enthusiastic Fun & Entertainment team organises the best indoor and outdoor activities for young and old! Children can go to the Mio Kids Club for great activities at the weekends, during school holidays and on public holidays. Teenagers can take part in the Fun & Active programme, with cool sports activities, exciting workshops and challenging games during school holidays and on public holidays.
We also regularly organise great activities for adults. Enjoy live music on Het Wilhelmus or an entertaining quiz night, or visit the lively regional market.
More about Fun & Entertainment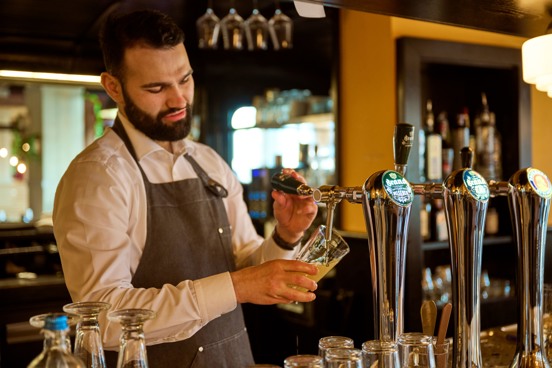 Sample local and international drinks in 't Proeflokaal Drinken
Go to 't Proeflokaal Drinken to enjoy a drink. Order a great cup of coffee here with real Limburg vlaai or find yourself a seat on the large terrace for an afternoon drink. At 't Proeflokaal Drinken you can choose from Dutch, Belgian and international drinks. You can sample some of the great craft beers, enjoy wine from Limburg's two neighbouring countries or drink locally distilled gin here. Taste the delicious flavours of the specialities on our snack board and your drink is complete!
Explore the surroundings on a bicycle from Fietsverhuur Dousberg
Hire a high-quality city bike, e-bike or children's bike from Fietsverhuur Dousberg at our resort. The bike hire shop is run with great passion by true locals who can give you the best tips about Maastricht and the beautiful surroundings. Discover the cosiest bars, the best restaurants and the most beautiful spots in the Limburg hills. You will find various bicycle routes and maps at Fietsverhuur Dousberg, which will enable you to explore South Limburg independently. Would you rather go with a guide? That's possible too!
Read more about bike hire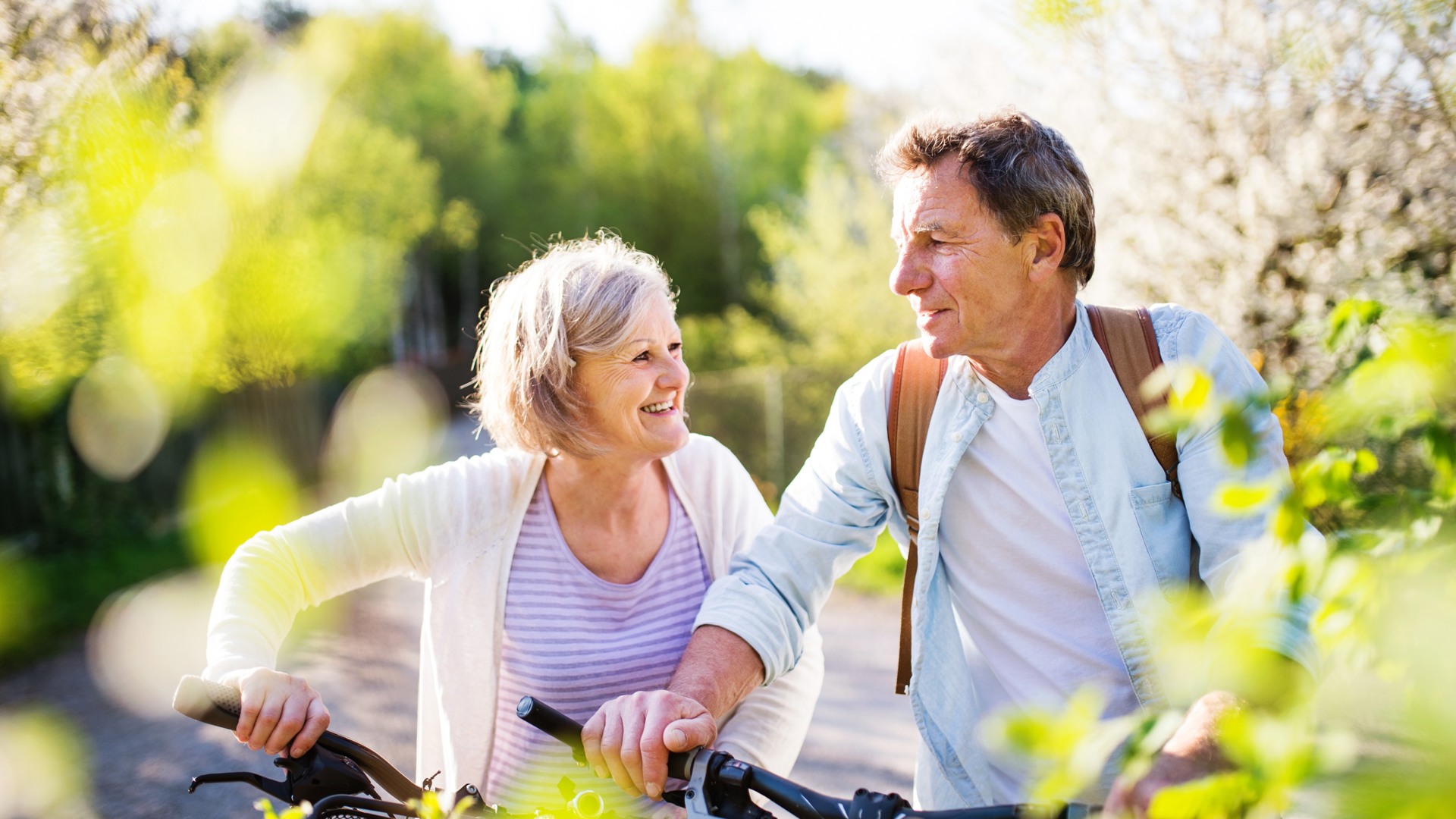 Great snacks from Dousberg Snack
Do you fancy a tasty snack? Go to Dousberg Snack! The menu includes some delicious snacks, like the typical Limburg Zoervleis, a burger or satay. To make your meal complete, you can of course also order fresh chips from Dousberg Snack's food truck. Enjoy your delicious snack in your own apartment or holiday home!
More about food & drinks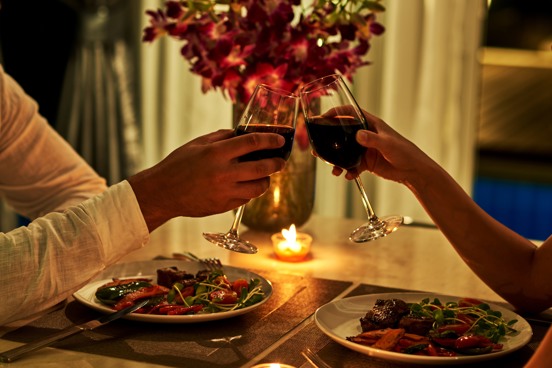 Order delicious food from Dormio Delivery
Would you like to enjoy an elaborate dinner from 't Proeflokaal Eten in your own holiday home or apartment at Dormio Resort Maastricht? Use our convenient take-away options or get your favourite meal delivered to your Home! You can use Dormio Delivery every week from Thursday to Sunday between 17:00 and 20:00 hours.
* Dousberg Delivery is currently closed.
Play golf on two nearby golf courses
Are you a true golf enthusiast? Dormio Resort Maastricht is the perfect destination for you! Our resort is surrounded by the golf course of International Golf Maastricht. This 27-hole golf course is situated in the beautiful hills, on both Dutch and Belgian soil. And it only takes 35 minutes by car to reach Golf Henri-Chapelle, situated in the middle of the Belgian Ardennes. This golf course actually consists of 3 golf courses: the 18-hole Championship Course, an 18-hole course with technical challenges and a 9-hole course with shorter distances for enthusiastic novices!
Read more about the Golf courses
Enjoy fine dining in Restaurant Rantrée
The Michelin-starred Restaurant Rantrée is situated on the 8th floor of Dormio Hotel De Prins van Oranje on Het Wilhelmus. This panorama restaurant has fantastic 360-degree views of the beautiful Limburg hills. Rantrée combines a cosy atmosphere and haute cuisine in a contemporary, attractive decor. The excellent balance between modern and chic is also reflected in the delicious food and accompanying wines. Restaurant Rantrée has been awarded a Michelin star and is certainly worth a visit during your stay!
Read more about Rantrée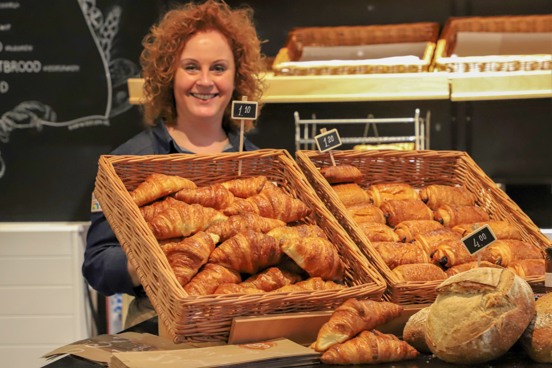 Get fresh rolls from the bakery
Every day, our bakery on Het Wilhelmus offers an extensive range of filled and unfilled rolls and real Limburg vlaai from an excellent bakery in Maastricht. A relaxed stay of course also includes a tasty, elaborate breakfast. Order your breakfast at our bakery in advance and collect your delicious breakfast in the morning. Enjoy!
Minimarket with regional shop
There is a minimarket with regional shop on Het Wilhelmus. You will find a broad range of essentials, delicious regional products and great gift ideas here. You will never run out of anything during your stay at Dormio Resort Maastricht!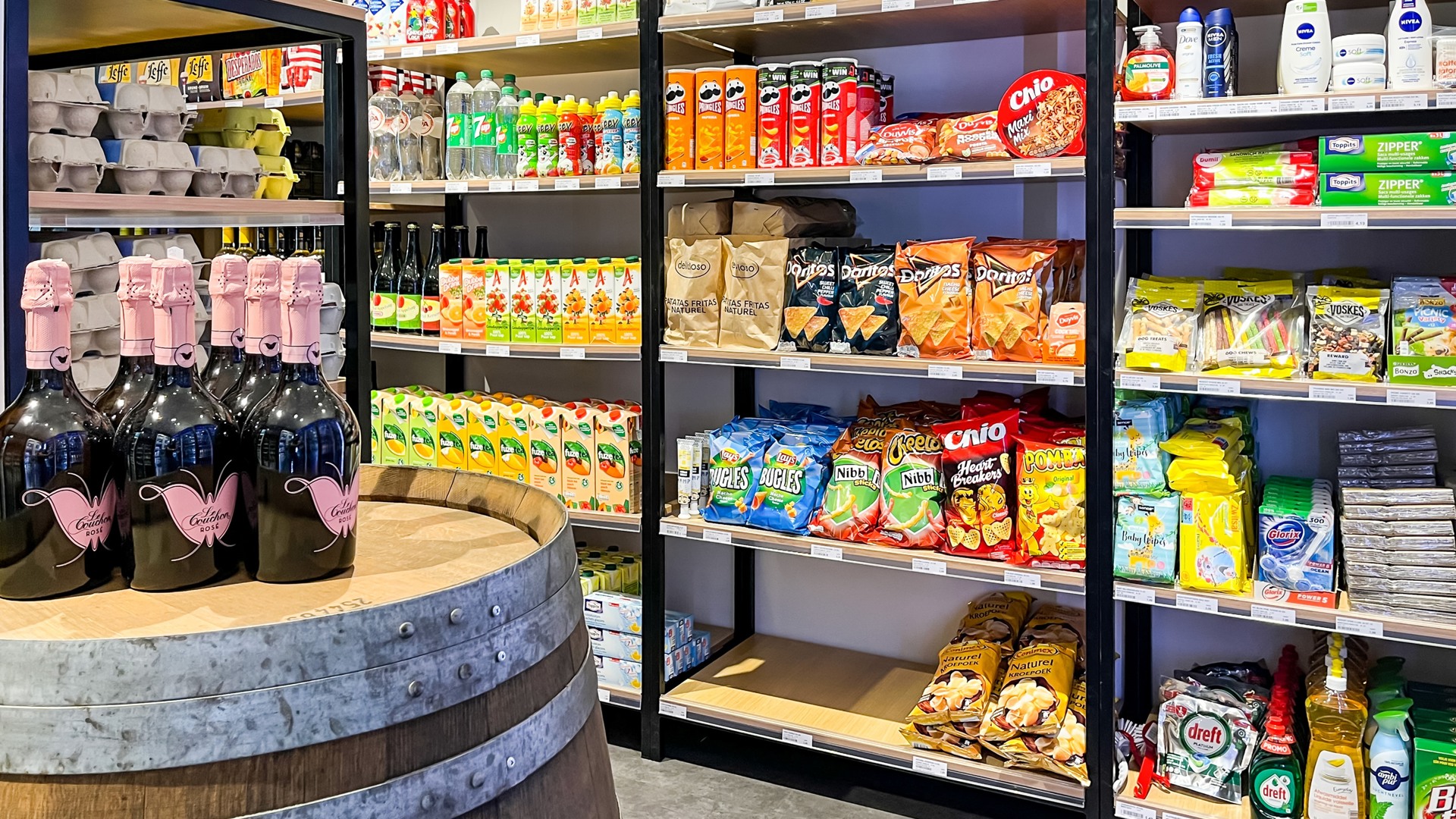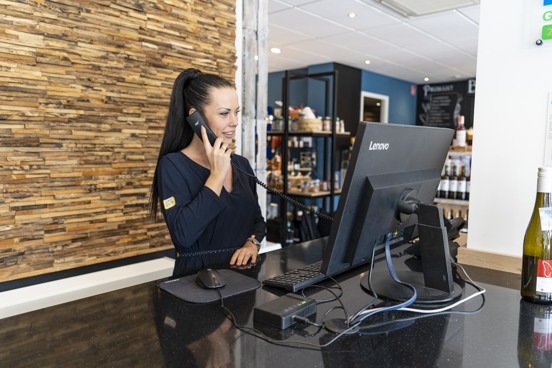 Go to reception with all your questions
The reception desk of Dormio Resort Maastricht on Het Wilhelmus is open 24/7. Here you can check-in and check-out, extend your stay or request a late check-out. Our reception staff will also be happy to give you information about Maastricht and all kinds of tips for activities in the vicinity!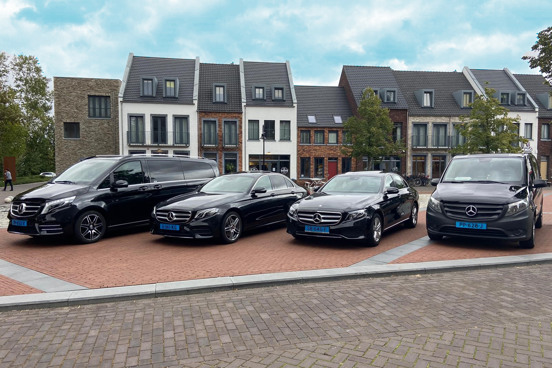 Inexpensive taxi journeys
Do you want to take a taxi to or from Vrijthof, Maastricht Central Station or the Maastricht Exhibition & Conference Centre (MECC)? Get a taxi from our trusted partner, Taxi Royal! You can contact them by telephone on +31 (0)43 310 00 81 or via WhatsApp on +31(0)6 46 82 57 23.
Journey to or from Maastricht Central Station: €24 (taxi for maximum of 4 people) - €29 (taxi minibus for maximum of 8 people)
Journey to or from Vrijthof: €16 (taxi for maximum of 4 people) - €22 (taxi minibus for maximum of 8 people)
Journey to or from MECC: €24 (taxi for maximum of 4 people) - €29 (taxi minibus for maximum of 8 people)
We also offer:
An information point of the Maastricht and Lanaken tourist offices at reception;
Good cooperation with De Dousberg ski slope, which is right beside the resort.
Book your stay in Maastricht