Enjoying the good life at
Dormio Resort Maastricht
Food and drinks at Dormio Resort Maastricht
---
Food and drink
Hot rolls from the bakery
Friendly terrace on Het Wilhelmus
Restaurant Rantrée
Hot rolls, butter croissants and delicious Limburg specialities guarantee you will start your day well at Dormio Resort Maastricht. Enjoy a delicious breakfast, lunch and dinner or order a sumptuous drinks box. Enjoying the good life is an important feature at our resort! That's why you will find various eating places and bars on the vibrant Het Wilhelmus. And of course you can take a seat on our sunny outdoor terrace when the weather is good. Enjoy!
Explore all facilities
Come and enjoy a festive dinner at 't Proeflokaal during the Christmas season
Enjoy our delicious festive menu at 't Proeflokaal in Maastricht and celebrate Christmas like never before! Let us surprise you with our festive menu comprising several courses with delicious flavour combinations. Enjoy a lavish Christmas dinner with family and friends. If you would like see what we have on offer, view our menu below.
View our menu
Enjoy the good life at 't Proeflokaal Eten
Do you want to enjoy the good life at our resort? Go to 't Proeflokaal Eten, and you will be in the right place! Here you will find an elaborate breakfast buffet every day, which will set you up for the day. In the afternoon you are welcome here for a tasty lunch.
At dinner time you can choose from all kinds of sumptuous dishes. Whether you like fish, meat or vegetarian food, there is something for everyone. Conclude your dinner with one of our delicious desserts or a cheese board. There is a special children's menu for the smallest guests, and they may spin Mio's Gift Wheel if you order at least 2 dishes. Enjoy!
View the menu
Sample the best drinks in 't Proeflokaal Drinken
Discover delicious local and international top drinks in 't Proeflokaal Drinken on the vibrant Het Wilhelmus! You can choose from Dutch, Belgian and all kinds of international drinks here. Taste the best abbey and Trappist beers, various Limburg wines or locally distilled gin. Fancy a little snack with your drink? Order a delicious snack board and enjoy the mouthwatering flavours!
Book your stay here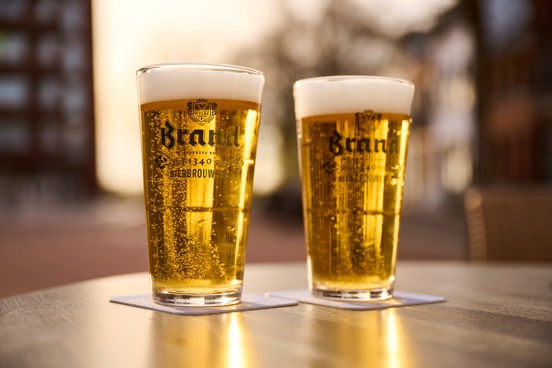 Discover the friendly terrace on the vibrant Het Wilhelmus
Take a seat on the friendly terrace on the vibrant Het Wilhelmus at our resort! Enjoy a snack and a drink in the sun. Do you prefer a seat in the shade? In our beautiful all-weather marquee you can also relax with a delicious aperitif in the evening.
Majestic entertainment at Rantrée
Enjoy a delicious dinner with breathtaking 360-degree views of the beautiful Limburg hills! On the 8th floor of Dormio Hotel De Prins van Oranje you will find the panorama restaurant Rantrée. This unique restaurant combines a cosy atmosphere and haute cuisine. The restaurant's food and decor are contemporary and cosy, but also chic. You can also enjoy the best accompanying wines here. Rantrée has been awarded a Michelin star and is therefore certainly worth a visit!
Read more about Rantrée