Enjoy the facilities on offer
at Dormio Resort Berck-sur-Mer
Facilities at Dormio Resort Berck-sur-Mer
---
Various facilities
Mio Kids Club in the summer holiday
Bicycle rental hire at our resort
At Dormio Resort Berck-sur-Mer you can make use of a number of facilities. This enables you to enjoy a wonderful holiday on the French Opal Coast! At our resort you have access to free WiFi and you have a private parking space at your holiday home. That will make your stay in France even better!
Search and book your holiday
Culinary delights at Bistro Le Bouchot
At the atmospheric Bistro Le Bouchot, you are welcome for a tasty lunch or dinner! Be surprised by local specialities such as the Bouchot mussels and taste the culinary dishes of French cuisine. You can settle down on the spacious outdoor terrace by the pool or take a seat inside in the cosy bistro. There is also a special menu for the youngest guests. Bon appétit!
The restaurant will be closed until April 2024.
View the menu
Sunbathing and swimming in the outdoor pool
Want to cool off during your holiday on the Opal Coast? Then take a dip in the heated outdoor pool at our resort. Next to the pool you will find comfortable chairs for relaxing. Ideal for hot summer days!
There is no supervision at the pool.
Book your stay here
Play, dance and sing at the Mio Kids Club
Our youngest guests will be kept fully entertained at the Mio Kids Club in the summer break! Our Fun & Entertainment team organises the most exciting activities here. Will your children join us and dance, do crafts and play with our always cheerful and friendly pet Mio?
More about the Mio Kids Club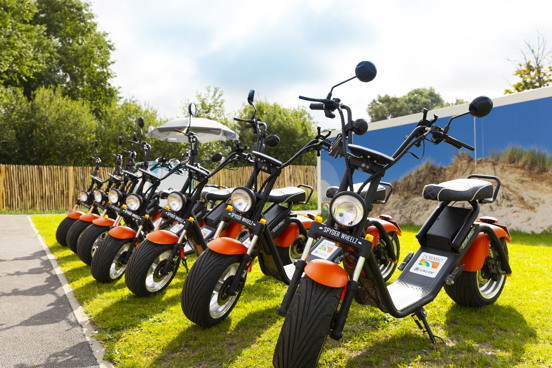 Riding an e-chopper along the Opal Coast
During your stay, exploring the beautiful Opal Coast is an absolute must-do. You can explore the surroundings on foot or by bicycle, but you can also ride a cool e-chopper! These electric motorcycles have broad tyres and high handlebars, which give them an eye-catching appearance. The e-choppers have a maximum speed of 25 kilometres per hour and can be hired from reception at our resort. When will you come along to explore and blow away the cobwebs on an e-chopper along the beautiful French coast?
A barbecue at your own holiday home
Would you like to have a barbecue at your own holiday home? You can! At Dormio Resort Berck-sur-Mer you can hire a barbecue from reception. This means you can enjoy great food and a relaxing time at your own accommodation.
View all holiday homes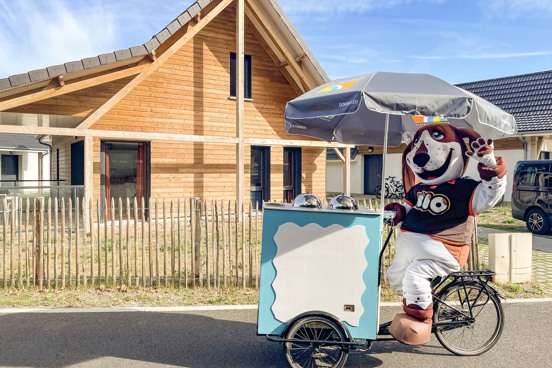 Get a delicious ice cream from the ice cream bike
If you want to cool down a bit, you can get a delicious scooped ice cream from the ice cream bike! We regularly cycle around our resort with the most delicious ice cream varieties. This helps you to cool down at your own holiday home.
Start the day with fresh rolls
Would you like to start the day with delicious fresh rolls? Order your favourite rolls for the next morning! We will make sure your fresh rolls are waiting for you at reception the next day. What type of roll would you like to have for breakfast? French bread, a croissant, a Danish pastry or one of the other delicious rolls - there is plenty of choice!
Book your stay here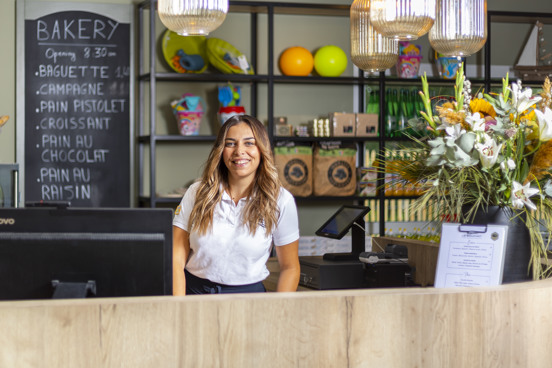 Reception
Do you have any questions about our resort or the facilities, or are you looking for tips about great activities in the surroundings of Berck-sur-Mer? We are here to help! Our reception staff can help you with any questions you may have.